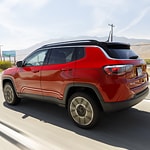 If you haven't experienced the latest Jeep Compass, you're missing out on the most comfortable and technologically savvy SUV yet. The Compass received tons of tech upgrades with the new lineup, including a 7-inch touch screen, voice recognition, remote keyless entry, rearview camera, and power adjustable seating.
For Brewton drivers, customizing the Compass experience is easy with available upgrades like a panoramic sunroof, 8.4-inch touch screen, Alpine audio system, HD radio, and advanced active safety features. Taking a test drive at Jim Peach Motors Inc can share more of the comfort, but we also want you to test out the new sensors and camera system in the Jeep Compass.
You don't have to worry about losing connectivity or drifting out of lane with all of the new options in the standard Compass, but there are advanced active safety and driving assistance options. With advanced safety features, you get blind spot monitoring, adaptive cruise control, rear parking sensors, lane keep assist, lane departure warning, and forward collision warnings.