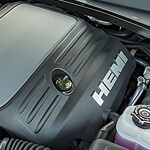 The Chrysler 300 looks stylish and modern, and it handles itself well. It comes with two available engines. Our customers at Jim Peach Motors Inc can choose from either a V6 or a V8, and you can't go wrong with either option.
On most of the trims of the Chrysler 300, there's a V6 engine under the hood. This V6 has a displacement of 3.6 liters. It can deliver up to 300 horsepower and 264 pound-feet of torque, so there's plenty of power. On select trims with the V6, there could be all-wheel drive. This would give you enhanced traction if you're ever dealing with tough conditions. The default drivetrain is a rear-wheel version.
The most premium trim of this sedan is available with a 5.7-liter HEMI V8 engine. You'll love what this V8 can do, as it comes with 394 pound-feet of torque and 363 horsepower. It needs less than six seconds to hit 60 mph.